Thomas Edward Patrick Brady Jr. is 39 years old and was born on August 3rd, 1977 in San Mateo, California. Tom is the only boy in the family and he has 3 sisters. One of his sisters is married to former Red Sox third baseman and fan favorite, Kevin Youkilis. Tom is married to super model Gisele Bundchen and together they have one son Benjamin who is 8 and a daughter Vivian Lake who is 5. Tom has a 10-year-old son, John, with ex Bridget Moynahan. Tom is the star quarterback of the New England Patriots is considered by most people around the world as the GOAT (Greatest of All Time). Tom has 5 Super bowl rings and 2 MVP awards. He has the most Super bowl wins out of any quarterback all time. He was drafted 199th in the 2000 NFL draft and skipped over multiple times by every team in the league including the Patriots. Six quarterback were picked ahead of him in that draft class. Not one of those other quarterbacks went on to do anything close to what Brady has done.
Tom sells a meal pack called, "TB12 Performance Meals." He is known for what he eats, how he keeps his body and mind right, and also the training he does to keep his performance on the field at the highest standard. The TB12 Performance Meals can be delivered right to your house. The meal pack consists of 2 servings per meal, and 3 meals per week. To purchase this meal pack you would subscribe to it and pay $78/week. While eating these meals you will see how Tom eats to stay in shape and keep his body fat and everything else perfect. I have never tried this, but from what I heard people now see how he stays in this good of shape at 39 years old. He takes care of his body and does everything possible to keep his football performance at the highest standard as he gets older. Most people do not play into their 40's, but not Tom. He has stated multiple times that he wants to play well into his 40's and I have no doubt in my mind that he will be able to.  I think the message he is trying to convey is about health and how to keep your body and mind in shape. His training and eating is fantastic for his body, but also keeps his mind sane. He does just enough training to make him feel right, but not put his body or mind over the top. I think the Branding of Tom Brady connects with people of all ages. For kids growing up he shows us how to stay in shape, keep training, and that anything is possible when we set our mind to it. For adults, he shows that you can still do things you did 20 years ago at the highest level if you keep your body and mind right. He said that he feels better and more mobile now than he did 20 years ago. Everything he is doing is paying off, and as a fan of the Patriots I couldn't be happier.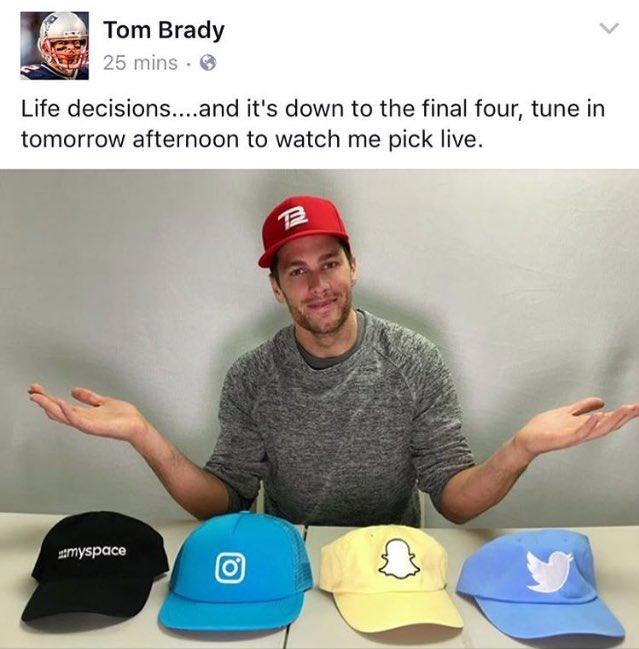 Social Media Overview
Tom never was into Social Media other than Facebook until the beginning of this year. He had a very famous and active Facebook page and then he made an Instagram. He does not have Instagram, Snapchat, or any other kind of social media according to him. When deciding whether to choose Instagram, Twitter, Snapchat, or Myspace he posted a picture of himself on Facebook with the 4 options as hats in front of him. Millions of people commented on it and then Tom made the choice to join Instagram. A choice that Instagram must have been thrilled with. I am sure when he chose Instagram many of his followers made an Instagram as well. On Facebook, 4,406,369 people like his page. On Instagram Tom follows 7 accounts, and he has 2.2 million followers. He has 76 posts, but recently he has started posting pictures and videos more often. Most of his pictures have to do with family, friends, teammates, and the Patriots. He also posts photos of the TB12 Performance meal to show and sell to fans. I would say Tom spends the most time on Facebook. It was his first social media account and he posts statuses and pictures to that often. Sometimes I have seen him interact with fans as well, which is pretty cool for someone that doesn't have much free time. Toms accounts usually only show locations when he is at an event or it has something to do with football. When he posts pictures of himself at home or with his kids privately they do not show locations. He mostly posts public place photos so people know where he is anyways. I think Snapchat is the social media that gives away digital footprint the most and he doesn't have a Snapchat.
Commendations and Recommendations
The things Tom does well on social media is interact with fans of different generations. Like I said previously, he connects with kids growing up right now and middle aged adults. He does it on social media and in the football clubhouse playing with teammates half his age. I think he is also making fans all over the world, including other states within the U.S. Most fans out of New England do not like him because of the success he and the Patriots have had, but if you follow his social media he is impossible to dislike. He likes to have fun with the social media accounts and gets his fans to laugh while doing it. I don't think I'd recommend him to do anything differently. His Instagram and Facebook accounts are funny and serious. He posts the "TB Times" after football games that the Patriots won and other photos of just him as a dad. We see both sides of Tom Brady through his social media accounts. I love the way he runs the accounts and I think every follower of his does as well. Also, I am one of the people that think he is the GOAT…and it is hard to argue against if you disagree.